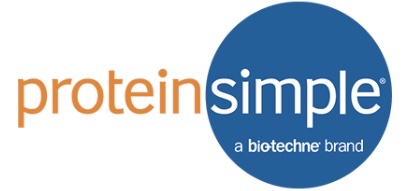 ProteinSimple provides state-of-the-art protein tools and helps thousands of researchers around the world resolve their protein analysis problems so they can reveal new insight into proteins and their role in disease. It offers wide-ranging portfolio of tools includes everything from immunoassay systems that quantify protein expression to systems that probe the structure and purity of protein-based therapeutics.
Simple Western

Protein quantity, identity, expression or isoform data from 3 µL sample in as little as 3 hours.

Alternative to Western blot and total protein analysis
Size- and charge-based immunoassays
Quantitative protein characterization
Protein analysis in precious samples

iCE

Therapeutic or purified protein identity, purity and heterogeneity data and methods in a day.

Measure protein purity
Identity and charge heterogeneity analysis
Method development
Formulation development
Screen cell lines

Simple Plex

High performance, hands-free results for a single or multi-analyte ELISA in an hour.

Alternative to multiplex ELISA
Multi-analyte immunoassays
Biomarker research

Single Cell Western

Western-based protein expression in thousands of single cells in parallel.

Protein validation of single-cell RNA data
Measure proteins undetectable with flow cytometry
Identify cell subpopulations

MIF Systems

Characterize aggregates or particles in your vials.

Sub-visible particle analysis
Quantify protein aggregates
Characterize particulates
Detect translucent particles
Monitor formulations
Distinguish silicone oil droplets from aggregates

FluorChem Systems

Easiest to use, best-performing Western blot and gel imagers.

Infrared Fluorescent Westerns
Multiplex Fluorescent Westerns
Chemiluminescent Westerns
Gel documentation

AlphaImagers

High-performance imaging for UV fluorescent and colorimetric applications.

DNA and UV-fluorescent gels
Colorimetric gels and blots
Colony counting
If you are interested in ProteinSimple products and would like to know more, please feel free to call us at 37920882 or write to us at info@suiwengtech.com.